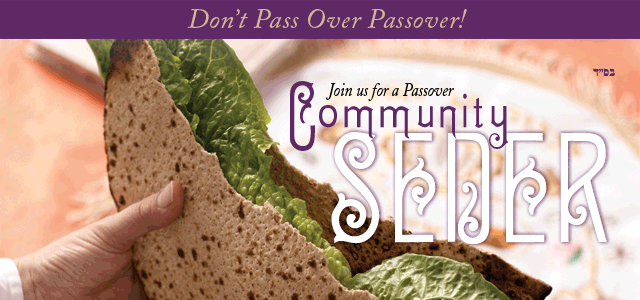 Join us for a Passover Seder you will remember for a lifetime!
Explore the Kabalistic insight on the number four: Four cups of wine, four sons, four questions, and four types of freedom and discover the seder's relevance to today's modern Jew.
As always, Chabad will be hosting Community Seders: a delicious, everything-from-scratch, homemade, genuine Pesach meal. Lots of singing, explanations of what we do, how we do it and why we do it - stimulation for the adult mind in addition to enjoying the interaction of the little ones. We start on time and end that way too. Good for the stomach and good for the soul. All are invited. Affordably priced. Limited seating.

Click  HERE to order Matzah! 
First Seder:
Friday, April 19 at 8:15 pm
Second Seder:
Saturday, April 20 at 8:30 pm
Cost: Adult $57 | Children $28 (under 12) | Family $155 (2 Adults, 2 Children) (No one will be turned away due to lack of funds.)

Four Cups Sponsor $180
Matzah Sponsor $360
Passover Sponsor $1,000

Please RSVP by April 14. Space is limited.